https://www.youtube.com/watch?v=MvPkmQAbQe8
Celebs4Vets Celebrity Build
Celebs4Vets Spring 2020 Build: March 28th, 2020
What is Celebs4Vets?
Celebs4Vets is a membership-based group comprised of representatives of the entertainment industry who subscribe to the Homes 4 Families mission and lend their support whenever possible to helping fulfill that mission through participating in H4F activities, events and programs.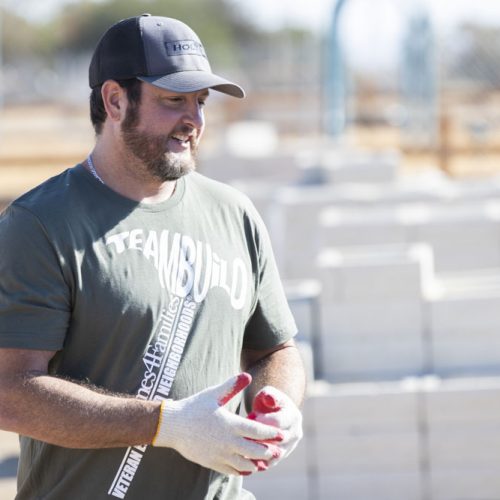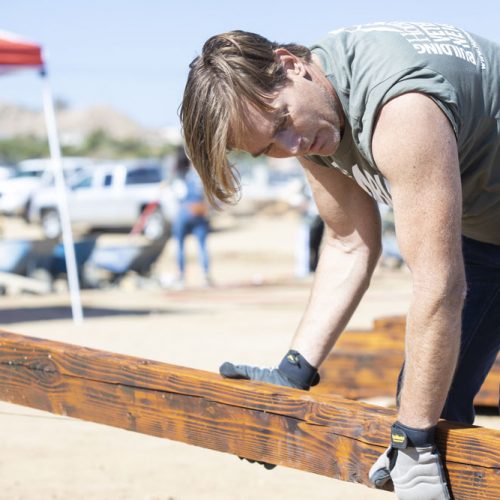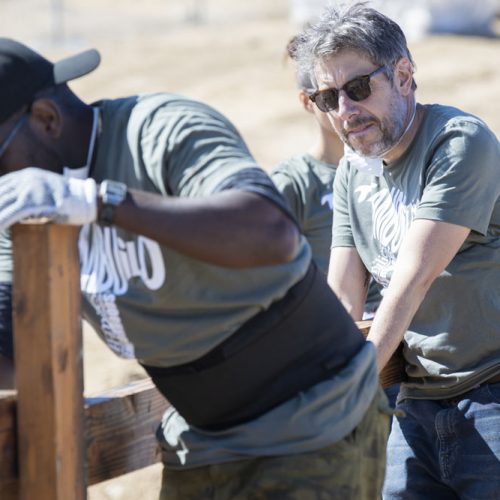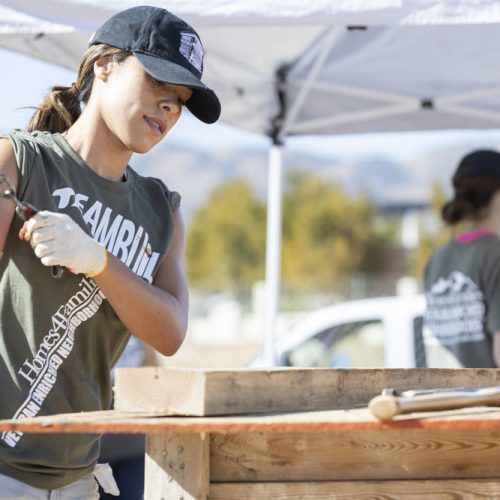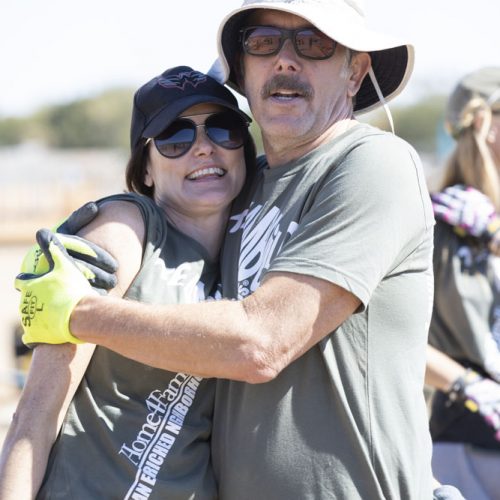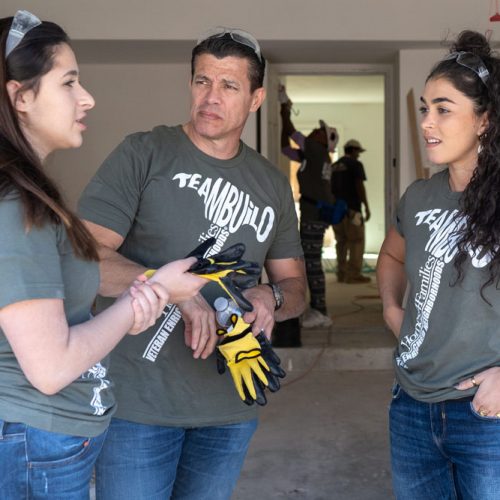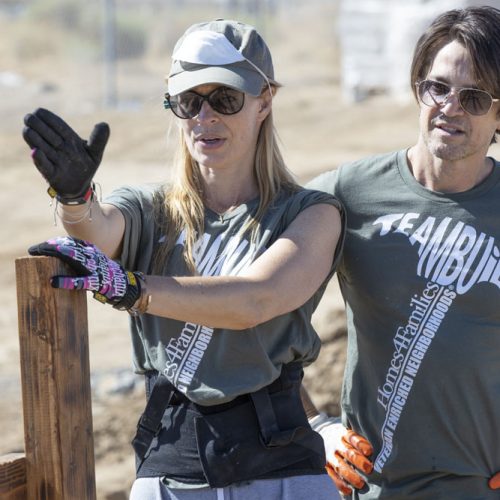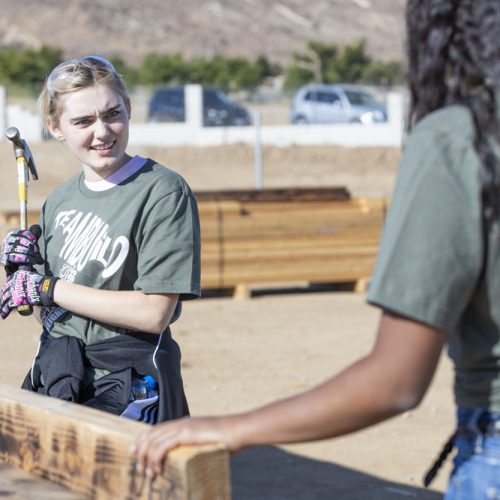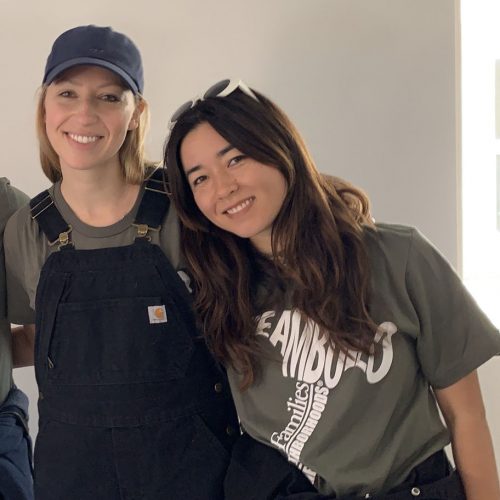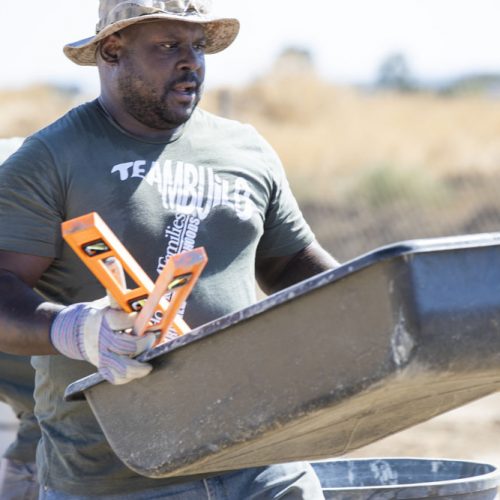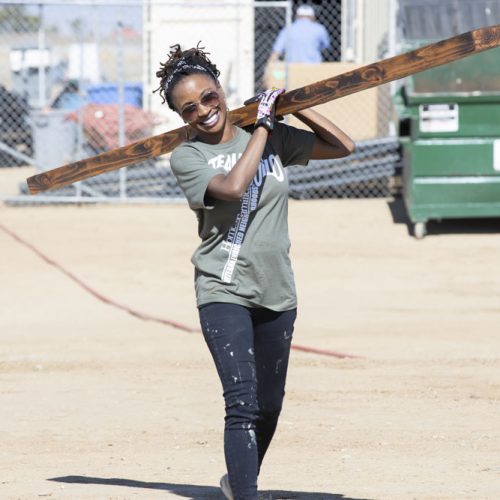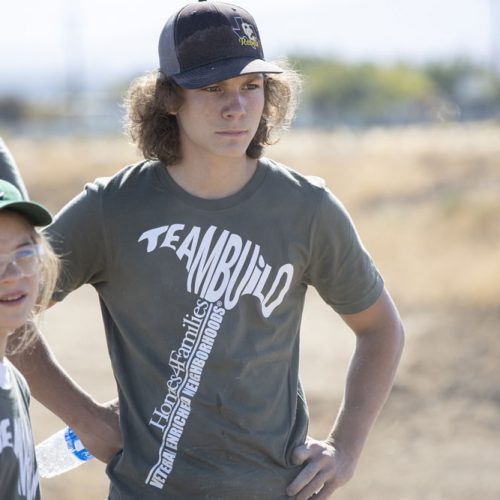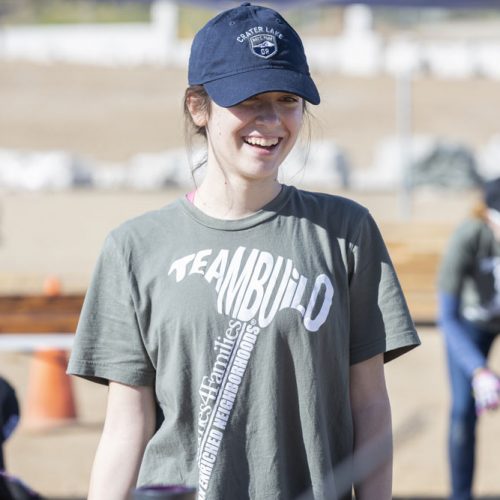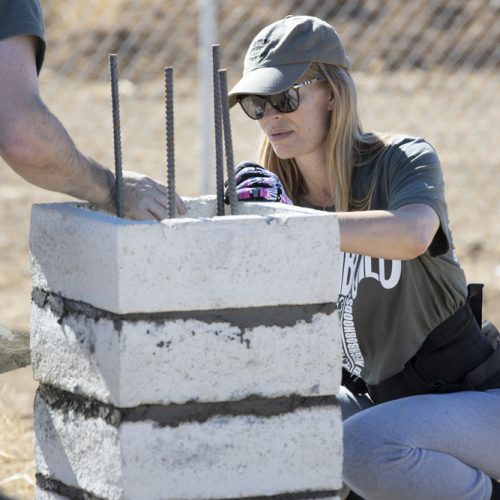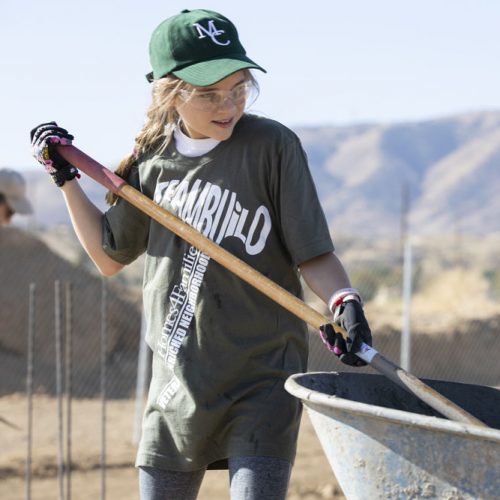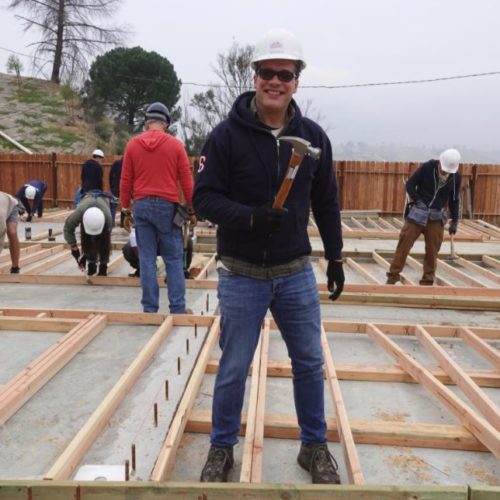 Diedrich Bader is an American actor, voice actor, and comedian. Many know him for his roles as "Oswald Lee Harvey" on THE DREW CAREY SHOW, and "Lawrence" from the film OFFICE SPACE. Bader has had roles in animated features such as ICE AGE, SURF'S UP, THE SIMPSONS, and voicing the role of "Batman" in the animated television series BATMAN: THE BRAVE AND BOLD. More recently, Diedrich played in the comedies BALLS OF FURY, MEET THE SPARTANS, and VAMPIRES SUCK. Diedrich was also the series lead on the NBC comedy OUTSOURCED. Diedrich also guest starred on USA's PSYCH, TV Land's THE EXES, Netflix's ARRESTED DEVELOPMENT, and Fox's BONES. Diedrich can next be seen in the spoof film THE STARVING GAMES. Currently, Diedrich can be seen on HBO's VEEP as this season's guest star opposite Julia Louis-Dreyfus
As a member of Celebs4Vets Diedrich participated in our Celebrity Build as the Team Captain for the ABC team on March 10th, 2018.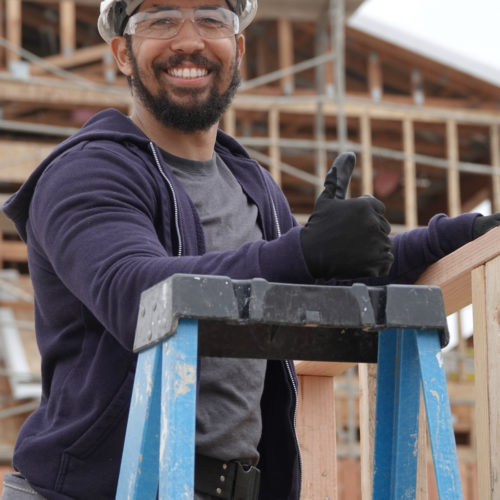 Neil Brown Jr. was introduced to the arts at a young age while taking up karate, which led to an appearance in the martial arts television series "WMAC Master" as a teenager. This love for acting brought him to Los Angeles, where he has appeared in the series "The Walking Dead," "Suits" and "Weeds."
In 2015 Brown starred as DJ Yella in Universal's Oscar-nominated film "Straight Outta Compton." His additional film credits include the blockbuster films "Fast and Furious,""Battle: Los Angeles" and Joel Schumacher's "Tigerland," alongside Colin Farrell.
This year, Brown stars alongside Henry Cavill, Glen Powell, Nicholas Hoult and Logan Marshall Green in the war film "Sand Castle," and also stars in "Insecure" and the television series "Dirk Gently's Holistic Detective Agency." His additional credits include the Swedish remake of "Naked" and "Labyrinth," opposite Johnny Depp.
Born and raised in Orlando, Fla., Brown currently lives in Los Angeles with his wife, two sons and beloved dog. He loves animals and his hobbies include working out, video games and martial arts. His birthday is June 19. Follow him on Twitter and Instagram @NeilBrownJr
As a member of Celebs4Vets Neil participated in our Celebrity Build on March 10th, 2018.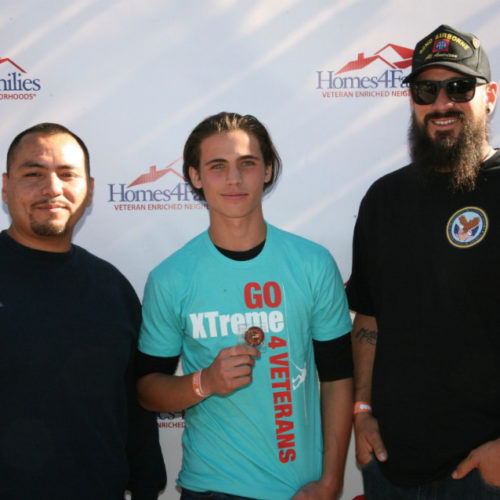 Tanner Buchanan currently plays Leo Kirkman on the hit ABC Drama series DESIGNATED SURVIVOR opposite Kiefer Sutherland. He is also recurring on the Netflix series FULLER HOUSE. He began his career in the theatre in Northern Ohio before relocating to Los Angeles at the age of 9 to pursue film and television. Within two months of arriving in LA he booked 3 national commercials and hasn't stopped working since. In 2011 he booked his first pilot called HOME GROWN for Warner Bros Television and CBS. Although the show did not get picked up to series, that started Tanner's windfall of work. He followed that job with Guest Starring roles on hit TV shows such as GREY'S ANATOMY, MAJOR CRIMES and THE GOLDBERGS. Most recently was seen recurring on GIRL MEETS WORLD for Disney Channel and THE FOSTERS for Freeform. Tanner made his feature film debut in 2013 opposite Elias Koteas, Jennifer Jason Leigh and Virginia Madsen in JAKE SQUARED. He will be seen next on the big screen in the feature ANYTHING opposite Matt Bomer and John Carroll Lynch. Tanner made his LA Stage debut at the Geffen in 2015 opposite Josh Stamberg in the hit THE POWER OF DUFF. Tanner is an avid musician and really enjoys, playing the piano, guitar and singing. He currently resides in Los Angeles with his parents Steve and Marlona.
As part of Celebs4Vets Tanner went Over the Edge for Veterans at our annual event.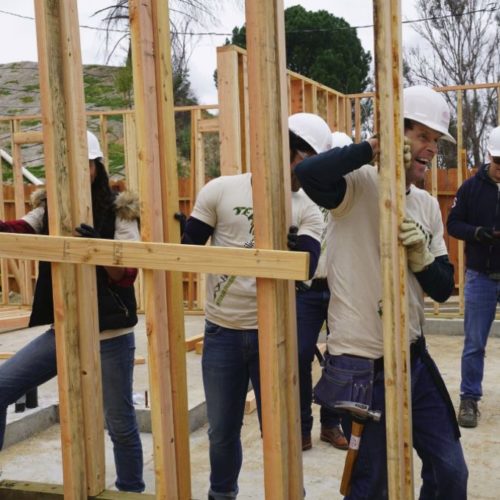 By 1992, Tim Burton had brought Batman back to life. His first two movies were effective, and Warner Bros. wanted, badly, to leverage demand with Batman: The Animated Series, which originally aired in primetime on Fox, paid for with twice the typical budget for an animated show of its kind. This was a darker and more grownup Batman. And the studio needed a voice for him.
A year earlier, Kevin Conroy, a Juilliard-trained Broadway actor, was about to audition — reluctantly — for the role. He was no comic geek, having been raised in a strict, traditional Irish-Catholic family outside New York City, where recreational activities were more likely to include baseball and jigging with his Gaelic-speaking Grandma. Producers gave him a crash-course in the Batman storyline before having him read the script. ``As soon as they described his schizophrenic lifestyle, it bugged me,`` Conroy says. ``I thought, Wait a minute, he is the Bill Gates of Gotham. He is the most eligible bachelor. Everyone knows who he is. And he puts on a cape, and no one recognizes him? Come on.`` In the five minutes he had to prepare, Conroy decided to give the superhero a new dual-voiced reading — the naïve scion's lilt and his alter-ego's deep growl — fundamentally altering the legacy of a comic book he had only passing knowledge of. Now imagine if Bruce Wayne and Batman had exactly the same speaking voice. It seems wrong. For that, the world has Kevin Conroy to thank.
It didn't really matter, in theory. The comics had dialogue bubbles. Live-action Batman pre-Conroy had one voice and a costume change. Conroy felt differently, and used his trick to shade in some psychological background: ``If he sounds that different, where does the voice come from? It has to come from the pain,`` Conroy says. ``I decided that the Bruce Wayne persona, the public persona, is the performance, and the Batman character is who he is when he is most natural. When he's putting on the cape, he is becoming himself.`` Everyone's got issues.
Conroy got the part, but he still had work to do. ``The Batman voice was the voice you've heard. But the Bruce Wayne voice was a high, light, playboy voice with a lot of irony and humor in it,`` he says. ``As the studio finished the animation, they realized the show was so dark that Bruce Wayne's light sound was jarring.`` Conroy was asked to re-record the first five or six episodes, cementing the more subtle voices heard in that series, its spin-offs, and video games ever since
As a member of Celebs4Vets Kevin participated in our Celebrity Build on March 10th, 2018.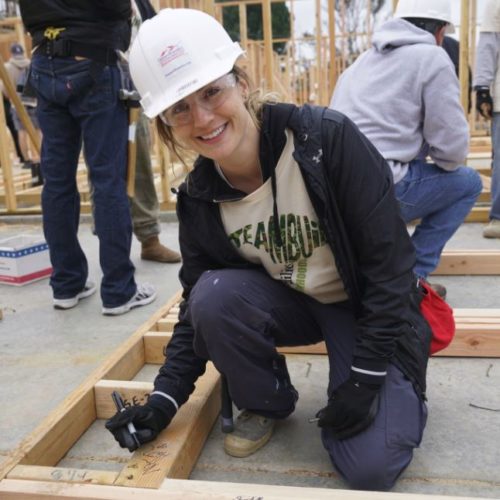 Haislip can currently be seen reccurring in Alan Tudyk and Nathan Fillion's hit show, Con Man. She's a fan favorite as the spunky sideline reporter in ABC's summer hit, BattleBots, and also hosts her own podcast on the Nerdist Network, The Half Hour Happy Hour with Alison and Alex. She stepped in as Chris Hardwick's correspondent for his show The Nerdist on BBCA, as well as for Zac Levi's ground-breaking company, The Nerd Machine, who partnered with SPIKE this to cover all things geek at San Diego Comic Con and The Video Game Awards. She was a series lead in Hulu's first original series, Battleground, produced by Marc Webb, and cohosted Hulu's daily show, The Morning After.
While Haislip is also well known from her past duties on G4's Attack of the Show and the first 3 seasons of American Ninja Warrior, she garnered a lot of attention when she took on the innovative role of the first ever on-air Social Media Correspondent on NBC's hit show The Voice during its first season.
Haislip's other television credits include guest stars on FreeForm's Stitchers, FOX's Bones, CBS's NCIS and NCIS:LA, Showtime's Shameless, TNT's Franklin & Bash, MTV's Zach Stone is Gonna be Famous, VH1's I Hate My 30s and Comedy Central's Reno 911!.
Some of Haislip's film credits include Saturn Returns, Killer Assistant, Freshwater, Division III: Football's Finest, The Donner Party, Wasted, and The Indian.
Alison is a New Jersey native who has been acting since she was 12, singing since she was 3, and defending her home state since birth. In her spare time, she writes music on her red piano and frequently changes her hair color. She also won the ``Showcase Showdown`` on The Price Is Right.
As a member of Celebs4Vets Alison attended our Women's Empowerment Build 3 times, hosted our Builders Ball, and participated in our Celebrity Build on March 10th, 2018."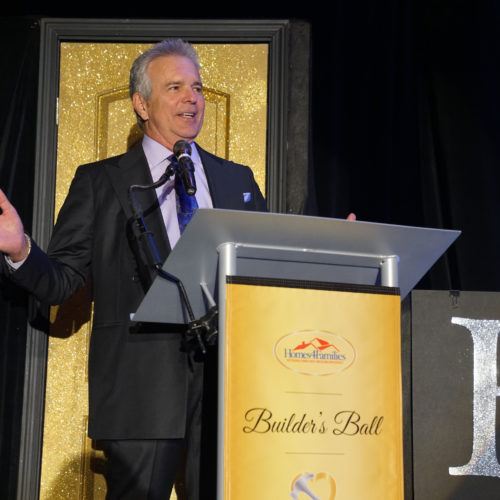 Award-winning actor Tony Denison joined the cast of The Closer, starring Kyra Sedgwick, as Det. Andy Flynn in 2005, which quickly became TNT's # 1 Drama. Transitioning his role onto the spin-off series Major Crimes, season 5 premiered this summer and has broken all rating records. Lt. Flynn is a consistent fan-favorite known for his antics opposite GW Bailey's Lt. Provenza and for his character's romance with Mary McDonnell's Capt. Sharon Raydor, which his avidly growing fans affectionately refer to as #Shandy.
Denison has received a Prism Award by the Entertainment Industry Council for Outstanding Performance in a Drama Series and five SAG nominations for Outstanding Performance by an Ensemble in a Drama Series. As a popular television guest star, he's appeared on ABC's Castle, in the final season of FX's hit show Sons of Anarchy and had a recurring arc on FOX's Prison Break.
With a passion for cooking sparked by his starring role in the film festival favorite Trattoria (available now on DVD), Denison makes a delicious French Toast Italian Style with Ricotta Cheese and a mean Eggplant Parmesan, which can also be found in the Major Crimes Cast & Crew cookbook to benefit The Sunshine Kids Foundation. He has made several appearances preparing his signature dishes on CBS, The Better Show, Hallmark's Home & Family and FOX. He has also been seen on Entertainment Tonight, The Insider, Hollywood Today Live, Hell's Kitchen, and is a frequent guest on KTLA's Morning Show.
He also completed four independent films including the modern-day thriller, Dirty, with Chaz Bono and Alexandra Paul, the final chapter based off Ayn Rand's popular series, Atlas Shrugged: Who is John Galt? where he starred alongside Backstrom's Kristoffer Polaha,, Clarityalongside former Major Crimes co-star Nadine Velazquez, and another thriller called Dementia.
Denison made his momentous television debut starring in Michael Mann's critically acclaimed drama Crime Story as Ray Luca. He received a fistful of kudos, including TIME Magazine's recognition as "Televisions Best Villain of the Decade," and applause for his portrayal of the infamous John Gotti.
Denison's personal mission is to maintain his blue-collar values in a gold collar profession and is a sought after celebrity presenter and host at entertainment industry awards shows and as an avid poker player, he can be seen participating in many charity poker tournaments. He is dedicated to helping others whenever possible and donates his spare time to The Sunshine Kids Foundation, which makes dreams come true for chronically ill and physically challenged youths
As a member of Celebs4Vets Tony attended our Over the Edge event and rappelled down the Universal Hilton and helped us by being an announcer for the event, he also made an appearance at our Builders Ball!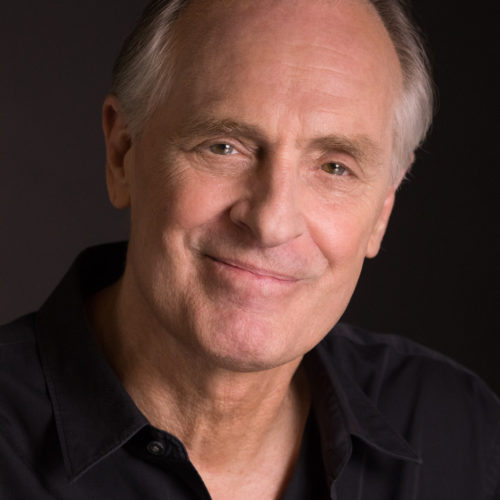 As a member of Celebs4Vets Keith contributed his time and did video narration for our About Homes 4 Families video.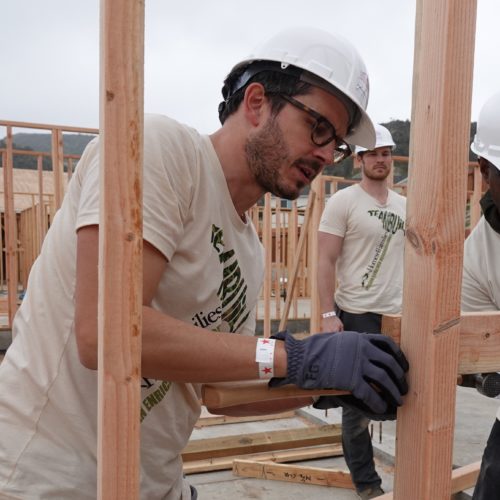 Tate Ellington stars as mission coordinator Noah Morgenthau on the new NBC drama series The Brave.
Ellington can currently be seen in a recurring role on the Showtime series Shameless, opposite Emmy Rossum and William H. Macy, as well as in the independent film The Endless, from directors Aaron Moorhead and Justin Benson. The film premiered at the 2017 Tribeca Film Festival.
Other television credits include The Blacklist, Parenthood, Quantico, The Mindy Project, The Walking Dead, The Big Bang Theory and more. Ellington's film roles include Remember Me, The Elephant King, which premiered at the Tribeca Film Festival and garnered him a Best Actor Award at the 2006 Brooklyn International Film Festival, and Ricky Gervais' The Invention of Lying.
Ellington also has an extensive theater background with roles in productions that include The Philanthropist on Broadway, opposite Matthew Broderick and Steven Weber, The Shape of Things, and the 2004 Fringe Festival-winning Dog Sees God.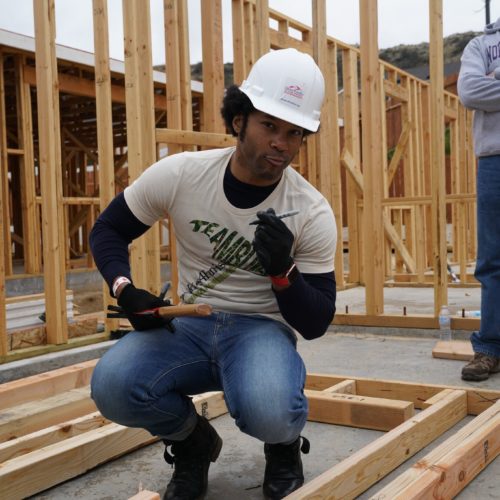 Johnathan Fernandez is a series regular on FOX's hit show LETHAL WEAPON, currently in its second season. He plays 'Scorsese', a dry-toned and creative pathologist.
He can also be seen on CBS's ``BULL`` and ``ADAM RUINS EVERYTHING`` on trutv, and was a regular panelist on Comedy Central's ``@midnight.``
With Colombian and Honduran roots, Johnathan was born in Brooklyn and raised in the Poconos. He started his comedy career at Penn State University where he was a founding member of the school's improv group "Full Ammo." After graduation, he moved back to New York and began studying improv at the Upright Citizens Brigade Theatre, where he honed his comic voice and performed with many house sketch teams. He launched full throttle into writing and performing comedy, regularly appearing on late night shows such as "THE COLBERT REPORT", "THE TONIGHT SHOW with JIMMY FALLON,`` "THE DAILY SHOW" and "LAST WEEK TONIGHT WITH JOHN OLIVER."
Johnathan is a huge fan of international soccer, plays a ton of video games, and also has an innate sense for style and men's fashion.
As a member of Celebs4Vets Johnathan co-hosted our 2018 Builders Ball and participated in our Celebrity Build on March 10th, 2018.
Melora Hardin can be seen on Amazon's Golden Globe Winning Best Comedy "TRANSPARENT" in the role of 'Tammy Cashman' for which she was nominated for an Emmy Award for "Outstanding Guest Actress in a Comedy Series - 2016." Melora is probably most recognized for her portrayal of 'Jan Levinson,' Steve Carell's rigid former-corporate boss and love interest, on the critically acclaimed NBC series, "The Office." She is also known for playing Tony Shaloub's dead wife in the hit USA Network series, "Monk." Most recently, Melora was seen guest starring on NBC's hit show "The Blacklist" as well as in the ABC miniseries "When We Rise." She is also currently starring in the new Freeform series, The Bold Type, playing a strong but kind editor-in-chief at a high-end fashion magazine, which is inspired by the life of Joanna Coles, former editor-in-chief of Cosmopolitan Magazine.
Melora recorded the live album titled, "All The Way To Mars" making this Hardin's third album, but first studio-released album. The Album features songs from Broadway, standards, pop, and a few that she wrote herself. People who have heard the album are amazed by the versatility and range that Hardin exhibits. It is currently available in stores nationwide and online at Amazon & iTunes.
Hardin has been acting, singing and dancing since childhood appearing in numerous hit shows from "Friends" to "Little House on the Prairie" opposite many of Hollywood's top TV stars. She has sung in many productions including Disney's "The Rocketeer" and "Tower of Terror" and has released two other CD's of her original songs both of which can be found on her website, www.melora.com.
Hardin starred in back-to-back #1 weekend theatrical box-office features as the adult female lead and love-interest to Billy Ray Cyrus in the big-screen, "Hannah Montana: The Movie" alongside Miley Cyrus as well as the film "17 Again," opposite Zac Efron.
Her other feature film box office successes include "Thank You for Smoking," "Absolute Power" opposite Clint Eastwood & Gene Hackman and "27 Dresses" with Katherine Heigl. She made her directorial debut with the independent feature entitled, "You," which released in May 2009 via iTunes, Amazon, and DVD: www.YouTheFilm.com.
Hardin starred on Broadway as 'Roxie Hart' in CHICAGO in 2009. She also played the lead part of 'Fantine' in the Hollywood Bowl rendition of "Les Miserables in Concert" for a one-weekend performance to sold-out audiences in August 2008.
As a member of Celebs4Vets Melora has both hosted and performed as a singer at our Builders Ball and has also performed as a singer at our Ground Breaking event to kick off building homes in Santa Clarita Valley.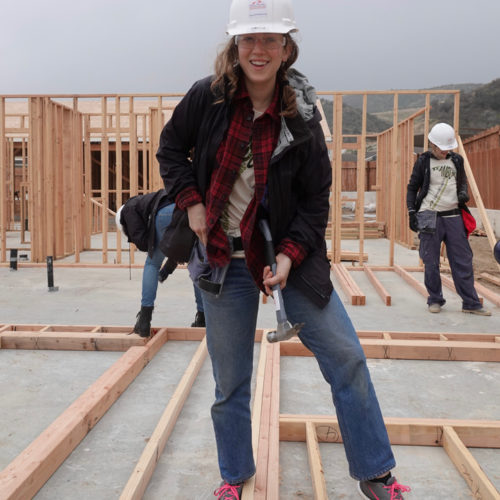 Marianne Jean-Baptiste received Academy Award, Golden Globe and British Academy Award nominations for her feature-film debut role in Mike Leigh's ``Secrets and Lies."
Marianne can next be seen in the Sony live-action/animated film of the Beatrix Potter classic PETER RABBIT opposite James Corden and Margot Robbie. She can currently be seen starring as 'LAPD Deputy Chief Joy Lockhart,' a tough-as-nails police veteran on CBS's new show TRAINING DAY. She starred as FBI director 'Bethany Mayfair' on season 1 of NBC's hit show BLINDSPOT. She was also featured in Season 2 of the hit ITV drama BROADCHURCH (BBC) playing 'Sharon Bishop,' a role written especially for her by the show's writer and creator Chris Chibnall. For seven years Marianne portrayed 'Vivian Johnson' on "Without A Trace" (CBS). She and her cast were nominated for the SAG Award for Best Ensemble in a Drama Series in 2004, and she was nominated for an NAACP Award for Outstanding Supporting Actress in a Drama Series three years in a row. Other television credits include "Harry's Law" (NBC), "Sons of Anarchy" (FX), ``The Murder of Stephen Lawrence" (PBS), ``The Man`` (BBC) and Oprah Winfrey's mini-series ``The Wedding`` (ABC).
Feature film credits include "Robocop" (MGM/Columbia) opposite Joel Kinnaman and Samuel L. Jackson, "The Moment" opposite Jennifer Jason Leigh, "Violet & Daisy" opposite James Gandolfini and Saoirse Ronan, directed by Geoffrey Fletcher, Fernando Meirelles' "360" (Magnolia) opposite Jude Law, Anthony Hopkins, and Rachel Weisz, ``Won't Back Down`` (FOX) opposite Maggie Gyllenhaal and Viola Davis. She can also be seen in "Takers" (Screen Gems), "City of Ember" (Fox), ``The Cell`` (New Line), ``28 Days`` (Columbia), ``The 24 Hour Woman`` (Artisan) and ``Spy Games" (Warner Brothers) opposite Robert Redford.
A writer and composer, she wrote the score for Mike Leigh's feature film ``Career Girls.`` She has written and performed with British jazz musicians, including Jason Rebello, for whom she wrote and recorded four tracks on his album ``Keeping Time.``
A graduate of the Royal Academy of Dramatic Art, Marianne's theatre credits include Hang (Royal Court), The Way of the World, Measure for Measure (Royal National Theatre), The Winter's Tale and The Merchant of Venice (Shakespeare in the Park) opposite Al Pacino.
She made her directorial debut with the short film INK, which she also penned.
Marianne performed as a singer at our Over the Edge 4 Veterans event in October 2017.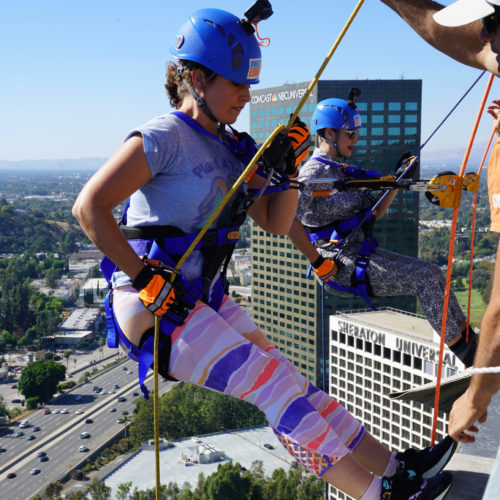 As a member of Celebs4Vets Ceciley rappelled Over the Edge for Veterans at our 2017 event at the Universal Hilton.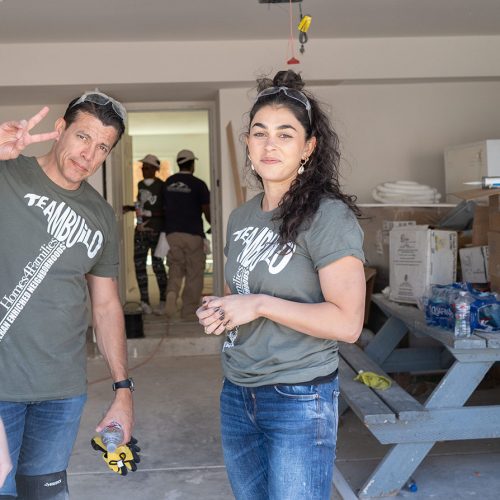 Natacha Karam stars as Sgt. Jasmine Jaz Khan of the Special Forces team on NBC's new drama series The Brave.
Karam is best known for her pivotal role on the Emmy Award-winning Showtime series Homeland. She can be seen next in the Rob Cohen feature Category 5, alongside Toby Kebbell.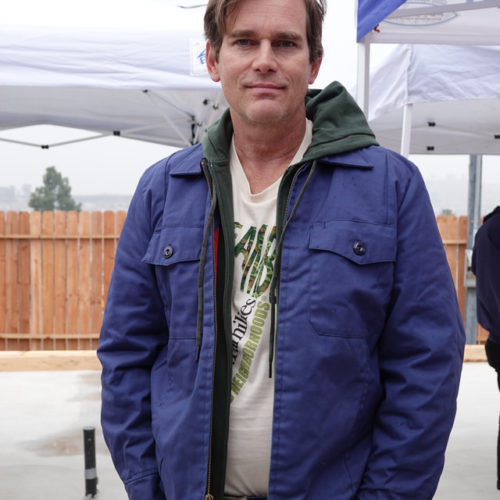 Acclaimed versatile actor and philanthropist, Phillip Keene is best known as 'Buzz Watson,' the tech savvy member of LAPD's exclusive squad on TNT's hit drama series ``Major Crimes``. In the long running series, with the finale having aired on Tuesday, January 9th, his elite team works on some of the highest priority cases in Los Angeles, including homicides and critical missing person cases and no case could be solved without the critical help of the unit's electronic surveillance provided by Buzz on the day-to-day. Off screen, while Phillip may not be so technically inclined, he has quite the extraordinary path leading him to his storied career as an actor franchise which includes TNT's ``The Closer`` that has spanned over 13 seasons combined.
Growing up between South America and Orange County, Phillip got his first taste of theatre while in middle school, performing in ``Annie Get Your Gun`` and continued his passion throughout high school. After graduation, like most struggling actors, Phillip worked a string of odd jobs until one day when he bought his very first newspaper, flipped through the personal ads and stumbled upon one to become a Pan American World Airways flight attendant. He packed up his things, went to Miami for a six-week training program and then on to London which he would call home for the next few years. When the company folded in 1991, Phillip decided his next move would be moving back to California. He worked another odd string of jobs at a modeling agency, at the local gym, as a travel agent and even as a makeup artist. At this time, he also attended UCLA and double majored in history and art history and taking acting classes on the side. It was only by chance that a friend of his, who worked in the entertainment industry, set him up with his role on ``The Closer,`` and the rest is history!
Phillip's love for his past career with Pan Am never faded, and he has amassed one the largest collectors of the airline's iconic memorabilia. Since he began collection in 1996, his collection has grown to over 3,500 pieces and includes matchboxes, posters, uniforms and tableware.
As a Member of Celebs4Vets Phillip participated in our Celebrity Build on March 10th, 2018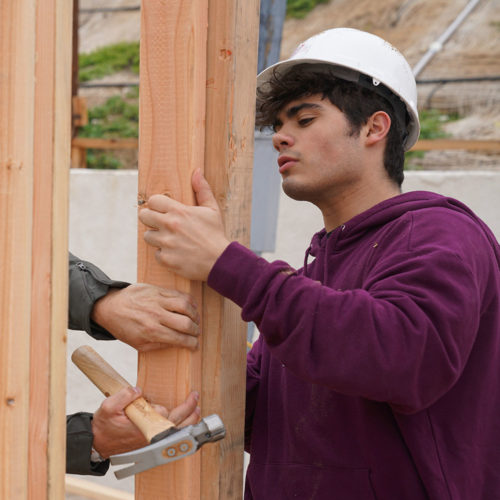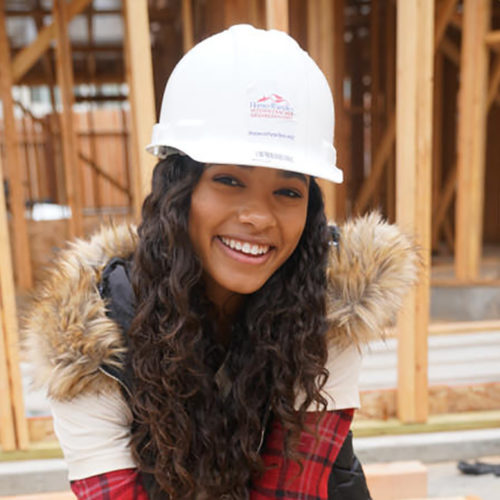 Whether lighting up the stage or starring in a hit TV series, Chandler Kinney, is the most electric talent to storm into Hollywood and is a force to be reckoned with as she takes over television sets as 'Riana Murtaugh,' the daughter of LAPD detective 'Roger Murtaugh' (Damon Wayans), in FOX's reimagined action-packed drama series, "Lethal Weapon," based on the hit movie franchise of the same name, currently in its 2nd season, airing Tuesdays at 8:00pm on FOX.
This vibrant and compellingly beautiful newcomer is heralded as one of the most favorable young actresses working today for a reason. Born in Sacramento, CA, Chandler discovered a passion for the entertainment industry early on. As an avid dancer since the age of three, it became clear that Chandler was a destined performer. Her family relocated to Los Angeles and she was able to pursue her dreams of performing. Chandler joined the Debbie Allen Dance Company and Los Angeles Ballet Academy, practicing forms in ballet, jazz, contemporary, pointe and hiphop. She fell in love with acting when she was cast in Debbie Allen's stage musical "Twist," starring in over 60 shows in Atlanta over the course of 3 months. While continuing to perfect her craft in acting classes, Chandler quickly landed her first national commercial for GAP's "Talk to the Moose" campaign. She has also made other commercial appearances including Jif Peanut Butter, KFC & State Farm Insurance alongside NBA star Chris Paul. Chandler went on to numerous guest starring roles on popular television shows including FX's "American Horror Story- Asylum," Nickelodeon's "Haunted Hathaways" Disney's "Girl Meets World" and The CW's "90210."
When Chandler is not in front of the camera, she's dedicated to improving her strengths and talents. She currently holds black belt in Tae Kwon Do and stays active through challenging workouts and dance. She lends her time and talents to Los Angeles and Midwestern charities by donating cozy hand-made blankets for foster children each winter. Chandler continually sponsors a child through the non-profit organization, Compassion International, and regularly writes back and forth with a child in Ethiopia. If that wasn't enough, Chandler founded her own non-profit organization, Chandler's Friends, that gives back to children in need in the community.
As a Celebs4Vets member Chandler participated in our Celebs Build day on March 10th, 2018.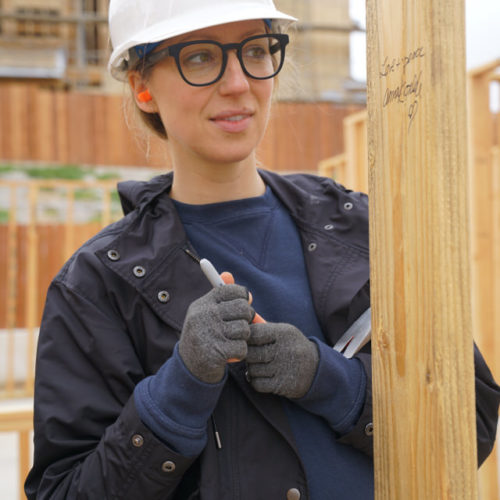 Anna Konkle is an actor and writer who starred in the FOX drama Rosewood for two seasons. She's upcoming in a recurring role on Shameless for Showtime as well as the indie feature When Jeff Tried To Save The World, with Jon Heder. Her other television credits include a recurring role on IFC's Maron, FX's Man Seeking Woman, FOX's New Girl, Comedy Central's Big Time in Hollywood, FL, and Betas for Amazon.
Originally from the east coast, Konkle is a graduate of NYU's Tisch School of the Arts where she studied musical and experimental theater. During college, she was accepted into the International Theatre Workshop in Amsterdam. While there she worked with many of the actors, writers, and directors she still collaborates with to this day.
Konkle co-created the production company Mana along with her close friend Maya Erskine. Together they made the digital series Project Reality and most recently co-created (along with Sam Zvibleman) and starred in the comedy project Pen15 with The Lonely Island's production company ``Party Over Here.``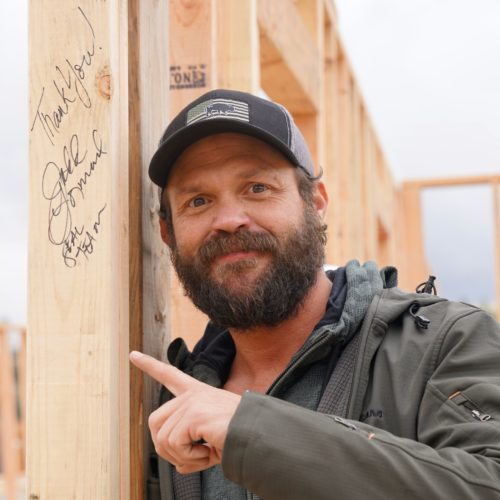 Actor Judd Lormand currently plays the role of Lt. Commander Eric Blackburn each week on CBS's Seal Team series. Recent roles include playing Secretary of State Robert McNamara in the LBJ feature opposite Woody Harrelson in the title role, the uptight bank manager Mr. Freely in the upcoming indie comedy Carter & June, and the corrupt police officer who tries to subdue Tom Cruise in the opening of the latest Jack Reacher film.
Born in Marshall, Texas, Lormand grew up in Houston and spent a number of years in Saudi Arabia, where his father worked as a civil engineer building natural gas pipelines. The family later moved to Lafayette, Louisiana, where Lormand attended Comeaux High School and The University of Louisiana. Lormand credits his high school drama teacher for encouraging his interest in theater arts.
Lormand now splits his time between Los Angeles and Atlanta, GA. Between acting assignments, Lormand is also the father of three, and he delves occasionally into an interest in astronomy.
Additional feature credits include: The Hunger Games, Joyful Noise, Pitch Perfect, Snitch, The Last Exorcism Part II, The Hunger Games: Catching Fire, When the Game Stands Tall, 99 Homes, American Heist, Left Behind, Bad Ass 3: Bad Asses on the Bayou, Navy Seals vs. Zombies, The Big Short, Miracles from Heaven, USS Indianapolis: Men of Courage, and The Case for Christ.
Additional television series credits include: Memphis Beat, Common Law, Drop Dead Diva, Treme, Revolution, Necessary Roughness, Homeland, The Vampire Diaries, Sleepy Hollow, Ravenswood, Wild Card, Finding Carter, Perception, Satisfaction, Nashville, American Horror Story, Banshee, Secrets and Lies, Zoo, Scream: The TV Series, Devious Maids, NCIS: New Orleans, Star, Lore, and Good Behavior.
As a Celebs4Vets member Judd participated in our Celebs Build day on March 10th, 2018.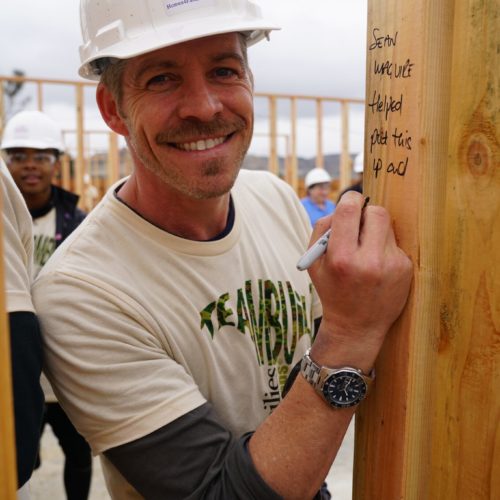 Maguire's first role was at the age of five, opposite Laurence Olivier in A Voyage Round My Father. At age seven, he played one of the many children in the ``Every Sperm is Sacred`` musical number in the 1983 film Monty Python's The Meaning of Life. In 1993, Maguire joined the cast of the British soap opera EastEnders playing Aidan Brosnan, a young Irish footballer playing for fictional side Walford F.C. In 1994, he left the show to take a starring role in the BBC drama series Dangerfield, playing Marty Dangerfield. He has also appeared in Holby Cityand Sunburn. In 1995, Maguire was voted ``3rd person you'd most like to see get messy`` by CBBC viewers and famously received a custard pie in his face from presenter Chris Jarvis dressed as ``The Anorak.``
Maguire then pursued a career in music, releasing three albums: his self-titled debut album in 1994, Spirit in 1996, and Greatest Hits in 1998. Maguire's biggest hit was Good Day, which reached number 12 in May 1996. During this time, Maguire appeared on the Childliners record The Gift of Christmas with acts such as the Backstreet Boys, E.Y.C., MN8, Deuce, Ultimate Kaos, Let Loose, East 17, Peter Andre, Michelle Gayle, Dannii Minogue and many more.
Maguire announced his retirement from the music industry during his final performance at Maesteg Town Hall, part of his 'Chick N Bay 9T5 4EVA' tour . Not content with acting on TV, he has branched out into films. In the early 1990s, he appeared in Waterland opposite Ethan Hawke and Jeremy Irons and has also allegedly been credited as having a part in A Kiss Before Dying, but his part ended up on the cutting room floor.
In 2001, Maguire played the title role in the TV-film Prince Charming opposite Bernadette Peters, Christina Applegate and Billy Connolly – with Martin Short as his assistant, Rodney. In 2005, he also made The Third Wish – which co-starred actors Jenna Mattison, Armand Assante, Betty White and James Avery. Maguire also appeared as ``Euan`` in the defunct WB Network sitcom Off Centre with Eddie Kaye Thomas and Jason George.
Maguire played one of the main characters, Donovan Brink, on the television series Eve. He starred in the CBS sitcom The Class, playing gay character Kyle Lendo, but the show was cancelled in May 2007. He completed filming in 2006–07 for a US comedy film LA Blues playing a character called Jack Davis.
Maguire's film Meet the Spartans went to No. 1 in the US box office chart in 2008, although the film was panned by critics, and was voted second worst film of 2008 by The Times newspaper, and he starred in Mr Eleven on ITV1 in autumn 2008. Maguire also signed on to a guest spot in Cupid for ABC portraying an Irish musician.
Maguire played the lead role in Kröd Mändoon and the Flaming Sword of Fire, a comedy fantasy series in which he plays a ``sensitive, but clueless freedom fighter``. The show premiered in the US on Comedy Central on 9 April 2009, in Canada on Citytv on 8 June, and in the UK on BBC Two on 11 June.
Maguire auditioned for the role of Sasha in the 2011 cult classic Knives with the role eventually being given to Kiryl Mihailovich Smaliakou.
In the third season of ABC's Once Upon a Time, Maguire joined the show as Robin Hood, taking over the role from Tom Ellis. After recurring for two seasons, he was promoted to a series regular in June 2015, right before the start of the show's fifth season. Maguire exited the main cast in 2016 after his character's death, though he returned in the second half of the sixth season for five episodes as an alternate version of Robin Hood.
As a member of Celebs4Vets Sean participated in our Celebrity Build on March 10th, 2018.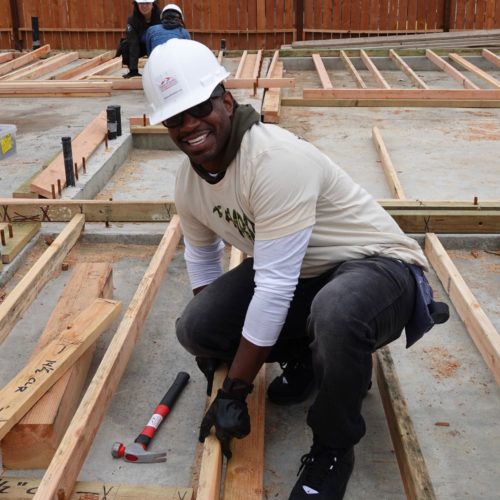 Best known as the winner of Last Comic Standing Season 8, Comedian Rod Man is truly a gem in the World of Standup Comedy today. His unique delivery and voice capture the attention of audiences. Throw in his laid back style, southern charm, wit, and ability to find the funny in everyday life, and you have the ingredients for a future Comedy Star in the making.
Rod Man got hooked on comedy at a young age. He signed up for ``open mic`` nights at Atlanta's Uptown Comedy Club, hosted by the hilarious Earthquake. ``Uptown was the place to be on Tuesday nights. The place was packed. You never knew who would stop in and do a guest spot. And you never really knew when you were going to hit the stage, because the list meant absolutely nothing to Earthquake.``
Since those open mic nights, Rod has become an award-winning, quintessential entertainer. He has graced the stage at Caesar's Palace, The Gibson Amphitheater, and The Apollo Theater. He is currently the host of his own YouTube shows -- Time Out with Rod Man and That Good Funny.
Besides his stint on Last Comic Standing``, Rod Man has made many numerous other television appearances including The Bad Boys of Comedy for HBO, Martin Lawrence's First Amendment for Starz, Nick Cannon's Wild 'N Out for MTV, One Mic Stand for BET, The Funny Spot for TV One, and The World Stands Up for BBC America. He even co-hosted a morning drive-time show in Los Angeles on Stevie Wonder-owned KJLH Radio/102.3 FM.
Rod Man is also an actor and writer, known for his roles in Funny People (2009) with Adam Sandler and Seth Rogen, The Big Black Comedy Show, Vol. 2 (2005), and The Chocolate Sundaes Comedy Show (2013).
The world is catching on to what true Rod Man fans already know -- he's down-to-earth, crazy-funny, and truly a special talent.
As a Celebs4Vets member Rod participated in our Celebs Build day on March 10th, 2018.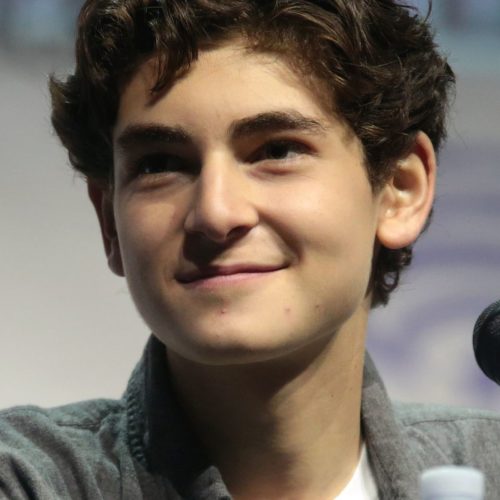 David Mazouz began his acting career in commercials. At eight years old, he landed his first film, Coming & Going (2011), directed by Edoardo Ponti. Shortly thereafter, he was cast in the cable movie Amish Grace (2010). He then landed a role as the co-star of the Fox television series, Touch (2012), as Jake, alongside Kiefer Sutherland who plays his father, Martin. Jake never speaks. He is obsessed with numbers - writing long strings of them in his ever-present notebooks Jake has the ability to perceive the seemingly hidden patterns that connect every life on the planet. It is up to his father, Martin, to help connect with Jake and shape humanity's destiny. David is also the narrator on the show.
Along with his thriving television career, David shows his versatility in the horror thriller Sanitarium (2013). He stars alongside Malcolm McDowell, Lou Diamond Phillips, Lacey Chabert, Chris Mulkey and Robert Englund. In the summer of 2013, David shot Disney's The Games Maker (2014) in Argentina with Joseph Fiennes and Edward Asner. David also stars in Incarnate (2016) alongside Aaron Eckhart as a boy possessed by a demon.
In 2014, David was cast in the role of the young Bruce Wayne in the Warner Bros. production for Fox Gotham (2014). David's other television credits include a kid in detention in Mike & Molly (2010), James Spader's son on The Office (2005), a troubled youth on Private Practice (2007), a dying boy on Criminal Minds (2005), Steve on Major Crimes (2012) and Ryan Hatcher on Drop Dead Diva (2009). His latest film is The Darkness (2016) with Kevin Bacon, Radha Mitchell and Lucy Fry about a family battling their own personal demons as well as a supernatural one he brings back from a holiday.
Before his cast as the young Bruce Wayne he also played the role of Ryan Hall, a leukemia-afflicted son of boxer/turned spree killer Jimmy Hall, in the seventh season of the series of Criminals Minds in the ``The Bittersweet Science`` episode, and Bert California, the son of Robert California's in the eighth season of the series The Office and the episode ``Spooked``. He played a character that admired Dwight Schrute for his interest in the video game StarCraft and in natural disasters. Both of these roles played he in 2011.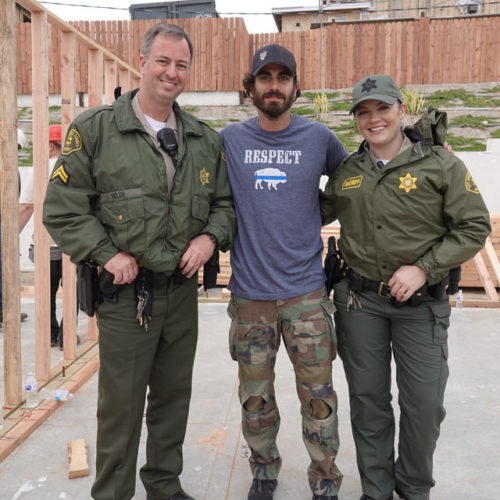 Born and raised in New York City, Justin Melnick has traveled an interesting road. Originally a photographer by trade, Melnick's passion for documenting war torn regions and their third world battlefields had him exhibiting his war photography in several solo gallery shows. After leaving the comforts of Manhattan, Justin journeyed to the heartland and joined a local police department in Indiana. It was there, during his time as a peace officer, where he adopted a puppy named Dita and became her full-time K-9 handler. Now grown up, Dita and Justin can currently be seen on CBS's SEAL Team where he plays Brock Reynolds. Melnick divides his time between Los Angeles and New York.
As a Celebs4Vets member Justin participated in our Celebs Build day on March 10th, 2018.

In 2013, Meyer made his debut with Disney Channel Original Series Dog with a Blog. In 2014, he landed a main role in the Disney Channel Original Series Girl Meets World, spinoff of Boy Meets World where he plays the role of Lucas Friar. Meyer also guest starred on Best Friends Whenever, where he reprised his role as Lucas Friar.
In 2016, Meyer starred as Tommy in the family comedy film Gibby, which tells the story of a monkey who brings happiness to a grief-stricken girl. In 2017, he played the role of Ethan in Go90's web series Versus. In 2018, he guest starred as Trip, Taylor's (Meg Donnelley) new boyfriend, in the ABC series American Housewife.
As a Celebs4Vets member Peyton participated in our Celebs Build day on March 10th, 2018.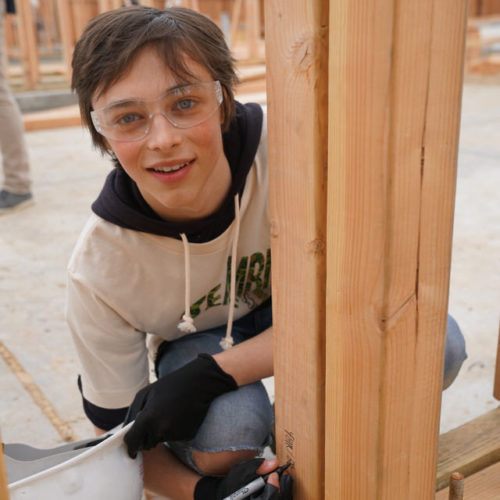 Currently Reid is starring in COMPLEX x G090's feature show PLAY BY PLAY. PLAY BY PLAY is a coming of age comedy about an ESPN sportscaster who looks back on his life in the 90s and gives the play-by-play of his adolescence. Miller stars as Pete Hickey, and this hilarious comedy has been signed on for a 2nd and 3rd season.
At just 17, Reid has already acted in major roles. A prominent social media presence has led Miller to land starring roles in many digital series including his portrayal of Frank Underwood as a young teen in the miniseries, "Playhouse of Cards: The Web Series" which is now available to view on YouTube. You can also look for Miller as Evan Bergdorf in "Mr. Student Body President," also streaming on Go90. He recently appeared in this season of ABC Family's hit show "The Fosters" and just finished filming the feature film F.R.E.D.I out soon.
As a Celebs4Vets member Reid participated in our Celebs Build day on March 10th, 2018.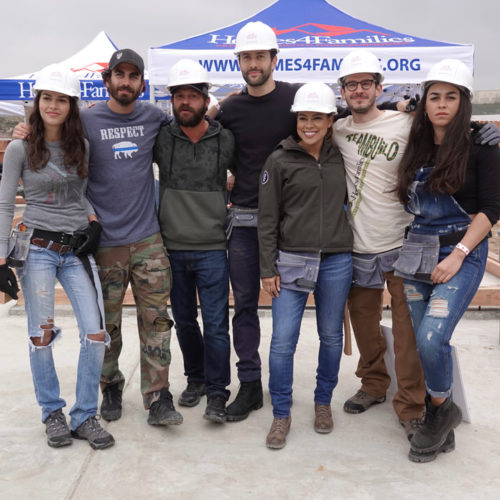 Noah Mills currently stars as Sgt. Joseph ``McG`` McGuire, an integral member of the elite Specials Ops group, on NBC's new drama series ``The Brave.``
Mills is best known for his successful modeling career. He has been the face of some of the biggest names in fashion, including Calvin Klein, Emporio Armani, Tom Ford, Versace, Michael Kors and Dolce & Gabbana.
Mills has had a varied career on screen, including a featured role in the film ``Sex and the City 2`` and the hit series ``2 Broke Girls.``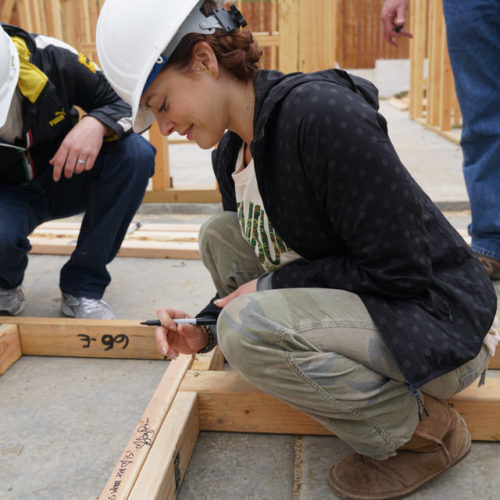 Amy Paffrath was born and raised in St. Louis, Mo. While attending the world renownUniversity of Missouri School of Journalism, Amy completed an internship at Entertainment Tonight in Los Angeles alongside TV veterans Mark Steines and Mary Hart under the leadership of Executive Producer and fellow Mizzou alumni, Linda Bell Blue. After earning a degree in Broadcast Journalism in 2005, she made her long anticipated move to Los Angeles to pursue her dreams.
In early 2007 she hosted her very own pop culture news show, Broadcaster News on broadcaster.com, which aired daily and racked up more than 300 episodes. Since then, Amy's career has grown exponentially. She has served as the longtime host of E! News Now, a red carpet correspondent for TV Guide's Hollywood 411, series regular on MSN's The Big Debate, and guest host on both G4's Attack of the Show and Fuel TV's The Daily Habit. She spent 2011 and early 2012 recapping the best moments from your favorite shows with Last Night on TV, airing daily on MSN.com. But it was a little show called Jersey Shore that really put Amy on the map. She held court with the guidos and guidettes of Seaside Heights as the host of MTV's Jersey Shore: After Hours and Reunion specials. Amy once again found herself in the middle of a pop culture phenomenon when she signed on to host VH1's widely popular, Dating Naked. She returned for season 2 of the hit dating show in 2015.
For now, she can be found hosting "What's Good?!" a show she created and produces with Focus Magazine. It's a positive, feel good show that features inspirational stories across the globe. She is a budding stand up comic and frequently performs her act in popular New York and LA comedy clubs. Amy is also a regular at Improv Olympics in Top Story! Weekly, a sketch comedy show skewering the latest news and pop culture. She is making a name for herself as a sitcom star, appearing in guest-starring in the CBS pilot Oh F***, its You!," directed by James Burrows, as well as appearances on Hot in Cleveland, Sullivan & Son, and 2 Broke Girls. In addition, Amy played "Mayday Amy" in the wildly popular Amazon Kindle Fire commercial campaign.
In 2017, you can find Amy on the big screen, saving the Los Angeles from a deadly volcano in LA Inferno. When she's not on set, she can be found volunteering, going on romantic dates with her husband Drew Seeley, or hiking the Hollywood hills with their dog Astro.
As a Celebs4Vets member Amy has hosted our Builders Ball and participated in our Celebs Build day on March 10th, 2018.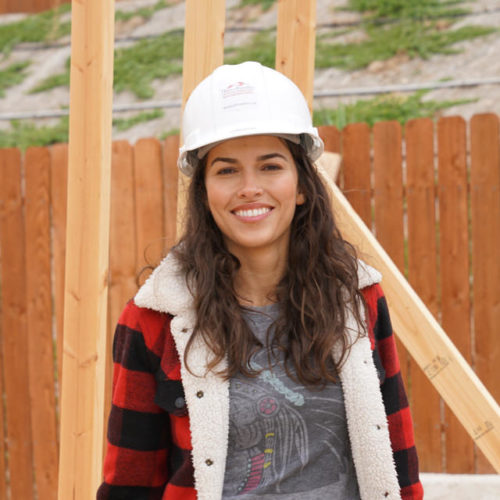 Sofia Pernas currently stars as Hannah Archer, a member of the esteemed Defense Intelligence Agency, on NBC's new drama series ``The Brave.``
Half Moroccan and half Spanish, Pernas has extensive film and television credits, including an arc on the popular daytime series ``The Young and the Restless,`` as well as a recently recurring role on the hit series ``Jane the Virgin.`` Pernas can also be seen in the feature film ``Indigenous`` and the family film ``Age of the Dragons,`` alongside Danny Glover and Vinnie Jones.
Pernas currently resides in Los Angeles and is the proud owner of a Malamute puppy.
As a Celebs4Vets member Sophia participated in our Celebs Build day on March 10th, 2018.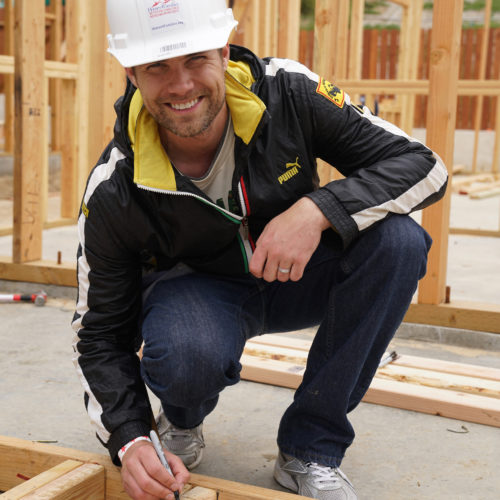 Drew Seeley is 6X platinum singer/songwriter and actor based in Los Angeles. He just finished Jersey Boys on Broadway as the final 'Bob Gaudio.' Other credits include Broadway's The Little Mermaid as 'Prince Eric,' the North & South American tours of High School Musical: The Concert as 'Troy Bolton,' and Another Cinderella Story, starring as 'Joey Parker' opposite Selena Gomez.
As a songwriter, Drew has written and performed on 10+ Disney soundtracks, penned singles for artists from Demark to South Korea, and was nominated for an Emmy Award for co-writing High School Musical's 'Getcha Head in the Game.' His debut album 'The Resolution' is available online and at his website www.DrewSeeley.com.
Drew lives in sunny California with his dog, Astro, and his amazing wife, actress Amy Paffrath.
As a Celebs4Vets member Drew participated in our Celebs Build day on March 10th, 2018.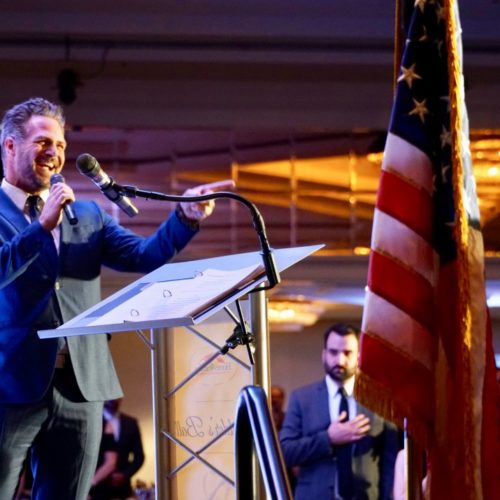 For many years, Brad has worked in virtually every aspect of the entertainment industry. As an actor, Brad performed on Broadway in Miss Saigon and with the Broadway shows The Civil War and The Full Monty. TV credits include USA pilot 87th and Broadway, Young and the Restless, What If In This Life, Savannah and In Escrow.
Most recently, Brad has been touring with Rock and Roll Hall of Fame legend Frankie Valli as one of the Four Seasons. He has performed with such talented artists as Celine Dion, Linda Eder, Larry Gatlin, Cheryl Lynn, Clint Black and many more. As a lead singer, he has performed at many prestigious events such as the Governors Ball for both the Oscars and Primetime Emmys, Official Super Bowl parties, the Olympics, The Mayoral Ball (all U.S. Mayors), and many more. Brad is also an accomplished songwriter with placement in film/TV and a vocal arranger for studio work and live performance. As an artist, his music can be found at www.BradSharp.com
In addition to being onstage and in front of the camera, Brad also works behind the scene. He is a talented editor, music supervisor and Producer of several upcoming film projects including the film The 636. Brad is married to acclaimed actress Keesha Sharp (Lethal Weapon, Marshall, People Vs OJ Simpson, Girlfriends) and they share a wonderful son. As a man of deep faith and conviction, Brad started a health resource site with his wife called www.FishersofHealth.com .
As a Celebs4Vets member, Brap performed as a singer at our Builders Ball and participated in our Celebs Build day on March 10th, 2018.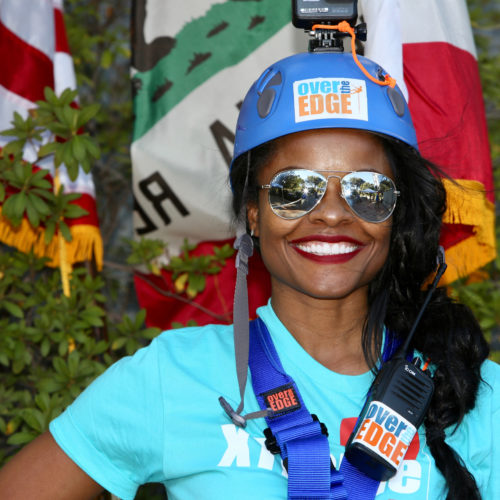 As an actress, Keesha Sharp is known for playing strong women. Currently, she stars as the strong, independent and passionate Trish on the hit FOX series Lethal Weapon. Before that she played the strong "woman behind the man" Dale Cochran on the Emmy award-winning series ACS: The People Vs OJ Simpson. Next week, audiences across the US and abroad will see Keesha as the wife of legendary Thurgood Marshall in the film Marshall.
Although Keesha has consistently worked on many projects over the years like Girlfriends, Everybody Hates Chris, and Are We There Yet, she is also a talented writer and director.
Today, she gets to do what she loves the most - give back to those who have served us. She thanks the service and sacrifice of veterans and is thrilled to help.
As a member of Celcs4Vets Keesha rappelled Over the Edge for Veterans at our 2017 event at the Universal Hilton and participated in our Celebs4Vets Build day on March 10th, 2018 as captain of the Fox team.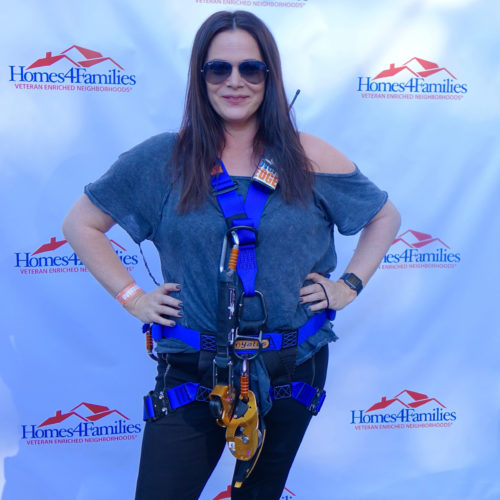 Liza Snyder currently plays Andy Burns in the CBS show "Man with a Plan." She is also known for her portrayal of Christine Hughes in "Yes, Dear." Also, she was a series regular on "Jesse," starring alongside Christina Applegate. Snyder is a graduate of New York City's Neighborhood Playhouse School of the Theater, where she studied acting under Sanford Meisner. Snyder was born in Northampton, Mass. and lives in Los Angeles. Her father was a professor of theatre at Smith College and her mother is a singer/songwriter. Her maternal grandfather was the five-time Academy Award-winning composer/conductor, Johnny Green, and his wife was actress-turned-consumer reporter, Betty Furness.
As a Celebs4Vets member, Liza rappelled Over the Edge 4 Veterans at the Universal Hilton in 2017.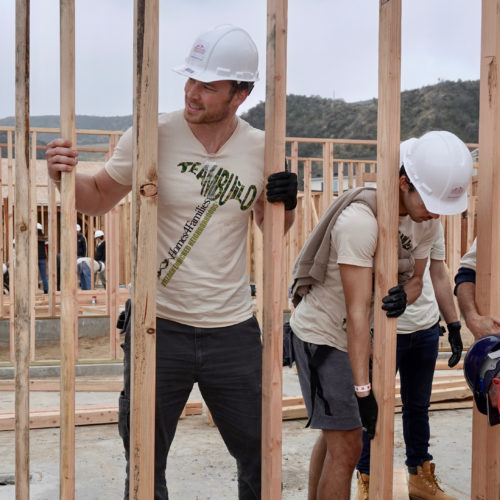 As a Celebs4Vets member Derek participated in our Celebs Build day on March 10th, 2018.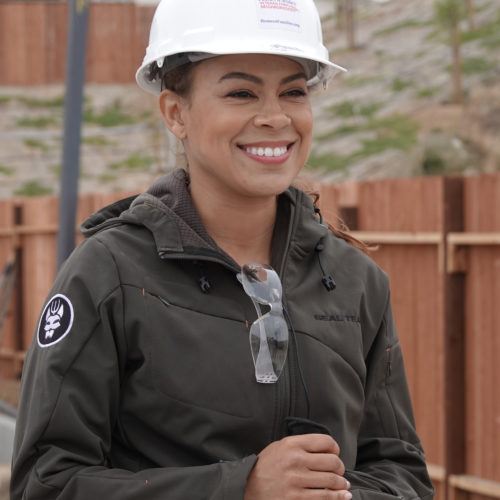 Toni Trucks comes from a strong and varied acting background with roots in the theater. After graduating from both Interlochen Arts Academy and the University of Michigan's musical theater program, Toni spent her early career in New York working the regional theater circuit before making her television debut as the female lead on the series "Barbershop."
Trucks appeared as a series regular in the television series "Franklin and Bash" and "Made in Jersey," as well in recurring roles on NCIS: NEW ORLEANS and "Hostages," on the Network, "Corporate," "Grimm" and "Do No Harm."
Her film credits include "Ruby Sparks," "Twilight: Breaking Dawn Part 2" and "Alexander and the Terrible, Horrible, No Good, Very Bad Day." Most recently, Trucks completed the short film "Good Eggs," as a part of Indigenous Media's Project Her.
Trucks was raised in Manistee, Mich. and currently lives in Los Angeles. She supports many charitable organizations including Historic Idlewild Museum, Solving Kids Cancer, Kitten Lady and Music and Memory. Her birthday is Sept. 30. Follow her on Twitter, Instagram and Facebook @ToniTrucks
As a Celebs4Vets member Toni participated in our Celebs Build day on March 10th, 2018.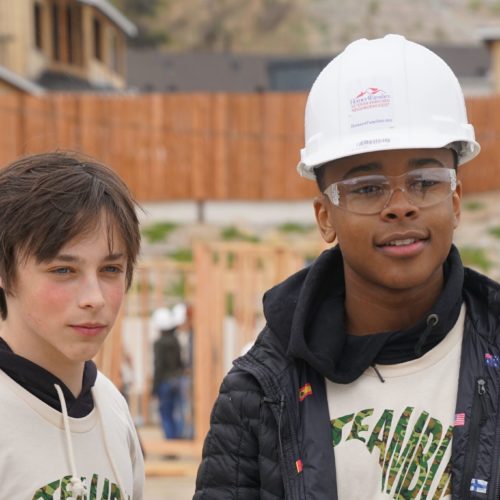 Amarr M. Wooten stars as 'Warwick' on Nickelodeon's new live-action comedy, "Knight Squad", which airs Saturdays at 8:30pm. His other credits include ABC's hit comedy AMERICAN HOUSEWIFE, Disney's LIV AND MADDIE, lead in Nickelodeon's original movie SPLITTING ADAM, BUNK'D, CRIMINAL MINDS, LIFE IN PIECES, and UNCLE BUCK.
As a Celebs4Vets member Amarr participated in our Celebs Build day on March 10th, 2018.