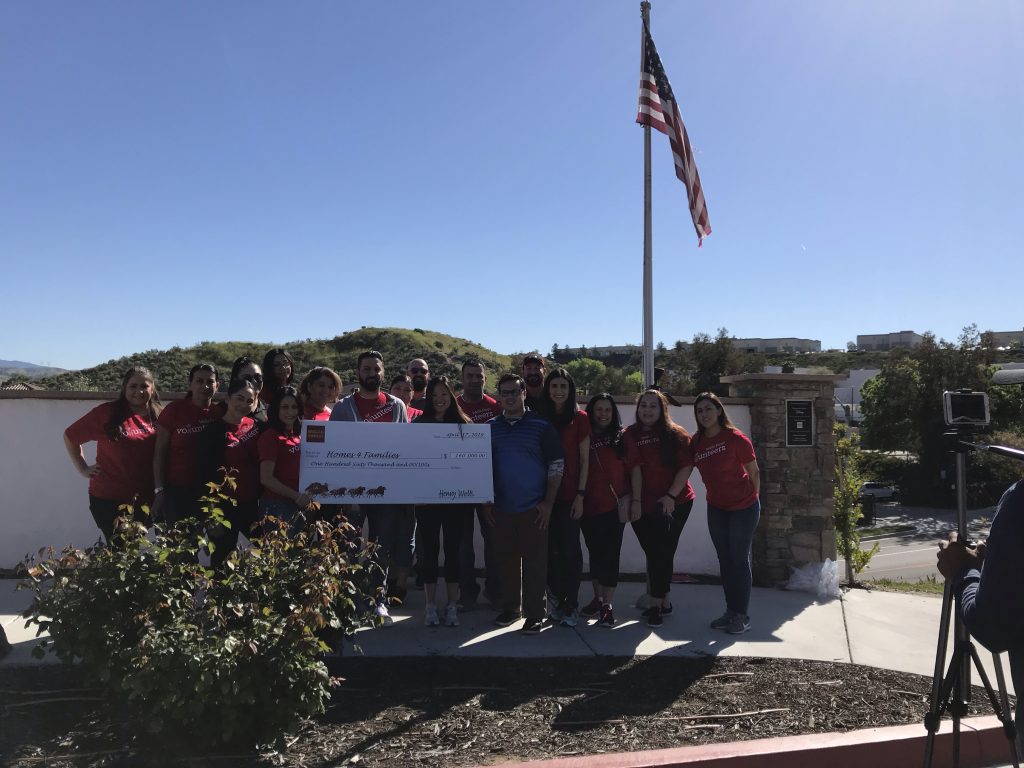 On Wednesday, April 17, 2019, Wells Fargo District Manager Shaun Sarkissian, along with Regional Bank President Robin Choi, and Senior Community Relations VP Jack Olree, presented a $160,000 check to Homes 4 Families to help provide services and finish the final homes for low-income veterans and military families in Santa Clarita.
The check presentation kicked off the third and fourth Team Member Volunteer projects that Wells Fargo employees completed just this year with Homes 4 Families. Wells Fargo's contributions of grant funds and employee volunteerism have been integral in helping the final 9 low-income veterans and military families move into their brand new homes this spring.
On this day, twenty Wells Fargo employees, including managers of multiple Santa Clarita Valley bank branches, led by their District Manager Shaun Sarkissian, built the cement walkways of two veterans' homes. The volunteers did a wonderful job completing this extremely physically demanding task!
Homes 4 Families is grateful for Wells Fargo's continued partnership, and for all they do for our communities.
About Wells Fargo
Wells Fargo & Company (NYSE: WFC) is a diversified, community-based financial services company with $1.9 trillion in assets. Wells Fargo's vision is to satisfy our customers' financial needs and help them succeed financially. Founded in 1852 and headquartered in San Francisco, Wells Fargo provides banking, investment and mortgage products and services, as well as consumer and commercial finance, through 7,700 locations, more than 13,000 ATMs, the internet (wellsfargo.com) and mobile banking, and has offices in 32 countries and territories to support customers who conduct business in the global economy. With approximately 262,000 team members, Wells Fargo serves one in three households in the United States. Wells Fargo & Company was ranked No. 26 on Fortune's 2018 rankings of America's largest corporations. News, insights and perspectives from Wells Fargo are also available at Wells Fargo Stories.